The new PA65 Plastic Primer is Octoral's newest introduction. The new aerosol packaging enhances the Octoral primer portfolio by offering a quicker and simpler application solution to plastic priming.
ENHANCED PRIMING
The PA65 Plastic Primer is a one-component adhesion primer based on special resins for enhanced adhesion on most common plastic parts used in the automotive industry. This ready to spray product removes the need for utilising the spray gun, saving on set-up and cleaning time. Its convenient packaging also allows for greater reach for hard to access corners. It provides good gloss holdout, is transparent in colour and dries extremely quickly.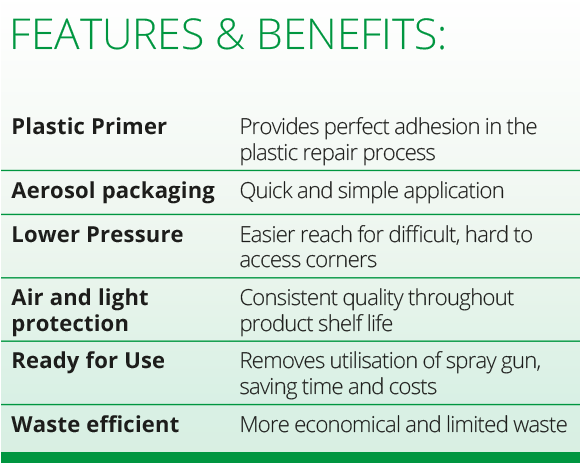 It can be used as an adhesion additive with the PH254 High Production Non-Sanding Primer for direct to plastic application, helping to reduce process steps, materials, and time – up to 30 minutes of the process.
The PA65 Plastic Primer can be used with the Octoral Octobase, Octobase Eco Plus Systems and 2K Topcoats.
For more information on the PA65 Plastic Primer, please refer to the product flyer.

The PA65 Plastic Primer is available to order now.