Octoral continuously develops products to reduce process times, increase profitability and customer satisfaction. The TA875 is our newest introduction aimed to drive body shop efficiency and overall repair process times.
The new Octoral TA875 Fade-Out Thinner liquid provides an incredibly easy fade-out process. Its introduction enhances the Octoral portfolio and complements the current TA875 Fade-Out Thinner aerosol within the assortment.
The liquid adaptation is easy to mix; it can be mixed with any Octoral Clears or 2K Topcoats, creating a high-quality finish. It has outstanding wetting properties, melting flawlessly into the blended area and creating a level transition into the existing finish, making the repair area invisible. The Fade-Out Thinner liquid can be applied in multiple layers.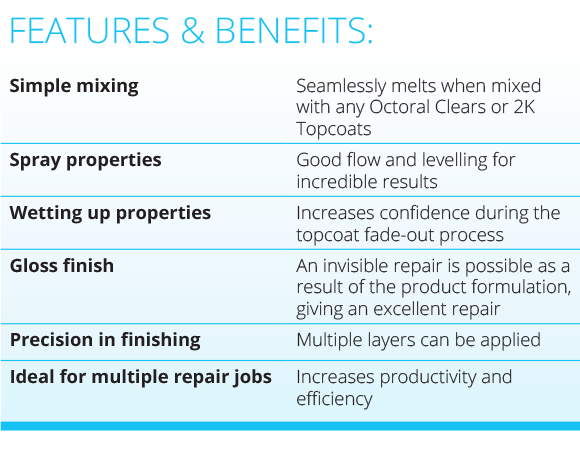 As part of the TA875 Fade-Out Thinner liquid introduction, the TA855 2K Spot Repair Thinner will be rationalised. This product will no longer be available to purchase once stock levels have depleted.
For more information on the TA875 Fade-Out Thinner, please refer to the product brochure.

The TA875 Fade-Out Thinner is available to order now.