Color box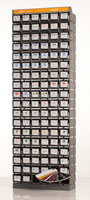 The Valspar Color Box consists of over 105 fan decks, containing over 7000 sprayed colour & variant chips.
Grouped by car manufacturer, this tool enables the user to visualise different variant shades of original car colours without making a spray out. Painted with the actual Octoral products, the Fan Deck assures you of the highest possible colour accuracy. Each colour chip is marked with the manufacturer, colour name, colour code and whether it is the standard or variant. Variant coding also enables you to gauge how each variant differs.
Updates are issued four times per year in order to keep your colour box up to date with the latest developments.
You can order the Valspar Color Box by mentioning number 6098023.