Colour map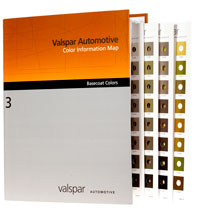 The Valspar Colour Information Maps make it easier to match colours.
Available in three different colour books, each chip is sprayed with Valspar Automotive paint to accurately depict the applied finish.
Quickly search colours by family, match colours without a code or simply offer your customer a wide variety of colour options.
Select from:
Book 1 – Solid Colours (VGG.NP001)
• Available in single stage or base coat colours
Book 2 – Single Stage Colours (VGG.NP002), only available for the Americas
• Applies to single stage metallics
Book 3 – Base Coat Colours (VGG.NP003)
• Applies to metallics and effect base coat colours
Valspar Colour Information Maps can be purchased separately to accommodate your shop needs!