Spectrophotometer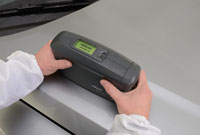 A perfect colour match is just a click away.
The Valspar Spectrophotometer is built around two simple truths: you need precise colour matches and a tool that is easy to use for everyone in your shop.
How do we deliver a precise colour match?
Start with a colour library many times greater than a standard colour box. Ensure that you can match original vehicle manufacturer colours, even difficult to match colours, and make new formulations available weekly. The result is the best colour match, less rework and optimized profitability.
Designed by users, the Spectrophotometer doesn't only deliver a perfect colour match, it's also very easy to use. Think plug and play technology, minimal training requirements, multiple languages, and simple calibration. The Smart Formulation Option ensures a colour match in all types of lighting. The Spectrophotometer alerts you if it needs to be calibrated, assuring you will always get the best possible colour match.
The Spectrophotometer is precise, simple and smart.
66-360 SPECTROPHOTOMETER
LED Light Technology
Uses 4 AA batteries, good for a 1000 measurements
2 year guarantee on the Spectrophotometer1
10 year guarantee on the light